10 août 2007
School is finished now. Since June I've spent lot of time looking for job offers on the web, sending CV and letters and in July going to the interviews. But now it's finished as I've found a job. Finally it was the first offer I replied to that was the good one. So I start working in Belgium (Charleroi) as a color manager, the 20th August in a rotogravure printing house. I also got a job in France but it was only for 4 months.
I'm enjoying my last days of holidays now, and on Wednesday I'm going there to look for renting a flat.
So if you come by Belgium, feel free to tell me and you'll be welcome !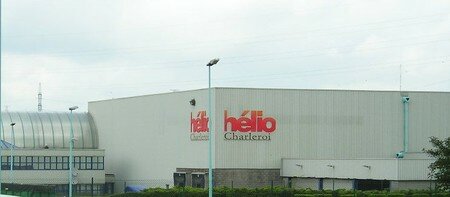 04 février 2007
As I'm now in Norway for my Master's thesis, I've created a new blog. The title of this one was not suitable anymore ...
So now all the news and photos are here : http://fabiennenorvege.canalblog.com/
See you there :)
23 janvier 2007
It's me here with my yellow overall, the colour of the Departement of Forest Products Technology.

09 janvier 2007
My sister visited me for my last week in Finland. So I re-discovered Helsinki, Suomenlinna and the surroundings, Porvoo, Tampere (thanks a lot Hanna, it was great to visit Tampere again with a great weather), Nuuksio and to go to Tallinn (I didn't find the time to go there before).
I put some photos on the different albums :
Tallinn
Nuuksio
Porvoo & Suomenlinna
Helsinki
Tampere
from Otaniemi and TKK
and also two more pictures in the weird stuff album
No I'm no more in Finland :( Thank you everybody I met there, it was really great to meet you and spend these four months in Helsinki. I really hope to see you somewhere sooner or later. And remember that if you happen to come to Norway you're more than welcome in the next 5 months.
I spent a week in Germany, visiting one afternoon Köln, and (re)visiting some of Bonn, but it was raining almost all the time so I was quite laizy to go out.
Now I'm back at my parent's home in Brittany for 2 weeks.
04 janvier 2007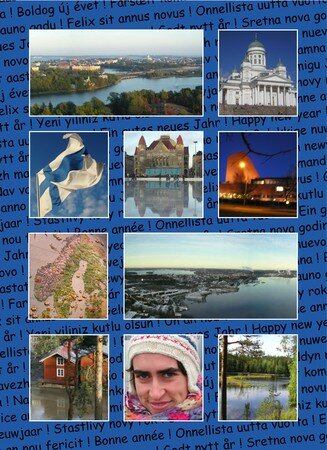 01 janvier 2007
From the 19th to the 23th of December, almost eveybody left Finland :( But that was an occasion to do a lot of parties.
* The first one was in Otaniemi on the 16th. Some pictures :
-On the way, at Kamppi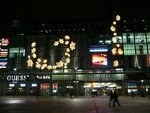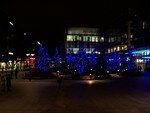 - The party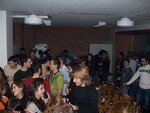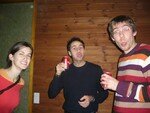 * Daniel left on Tuesday so we said him good bye before :



At the lounas in TKK :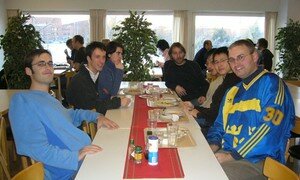 * On Wednesday some went to the Lux, but I had an exam the next morning so studying instead ...
* On Thursday we ate a Finnish finish finish dinner.
- Finnish because we were in Finland
- finish because it was the last one for some of us
- finish because we finished all the food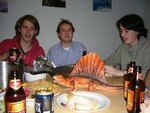 and then went to Onnella for the last time ...

this time we stayed until it closed and took the first train one hour later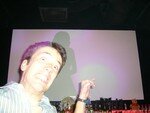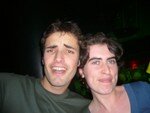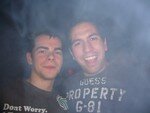 *On Friday everybody was on holidays :) no more exam so we did a party in Pierre's flat.
On Saturday evening, many people were already left ...
18 décembre 2006
I've had some more photos of the sky: the sun is less than 6h per day awake but it gives us quite often really nice scenery.
Just have a look in the album photos Weather/Nature pictures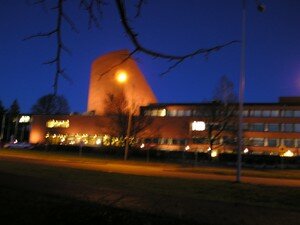 Last week I had 4 exams, and next week, one exam and one report to hand out so I am spending many time in front of my computer or reading books and sitting long hours to write the exams ... And don't have so much time to enjoy this Pre-Christmas time.
However last week I visited the St Thomas Christmas market, with Sandra, Gerald and Daniel. We met "Joulupukki" in the street !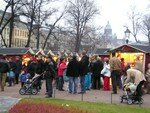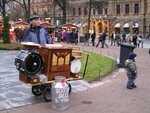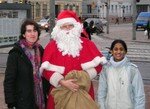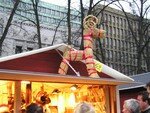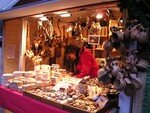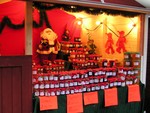 The market in the Old Student House, where I went on Friday after visiting the Modern Art museum, Kiasma.
Today Sandra, Vince, Antoine and I have been to the open air ice rink in Helsinki city center this afternoon. It was a so sunny day that we couldn't stay at home to study. I haven't
got any picture of this afternoon... I was scared to take my camera with me in case I fall down ... what I did two times ;) but I think I improve myself :)
Anyway we got a nice pictures from the iceskating school.
And here are some pictures from Friday's evening :

08 décembre 2006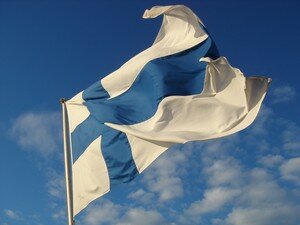 Mercredi dernier, le 6 décembre c'est le jour de l'Independance en Finlande. Tous les drapeaux sont donc de sortie, et plusieurs fêtes sont organisées.


Il y avait notamment un procession de vétérans mais surtout d'étudiants en centre ville. Les étudiants défilent par école, université derrière leurs drapeaux avec des flambeaux. On les a rejoints en cours de route, et s'est inseré dans le groupe d'étudiants de TKK. Ca marche à un bon rythme! et très calme chaque groupe chantant son hymne respectif. Lorsqu'on est arrivé devant le palais de la présidente, on s'est arreté pour chanter l'hymne de TKK, elle était là à son balcon. Puis on a continué jusqu'à la place du Sénat, face à la cathédrale où tout le monde était rassemblé. Il y a eu des discours -me demander pas ce qui a été dit, je n'ai pas tout saisi ;)
On a eu le droit à l'hymne finlandais bien sûr. Pour info, le titre c'est Maamme Laulu (Notre pays). Il a été d'abord écrit en suédois par Johan Ludvig Runeberg et titré Vårt Land, puis traduit en finnois. Il a été joué pour la première fois en 1848.
Pour avoir une idée le voilà : maamme (fichier wav)

Et quelques photos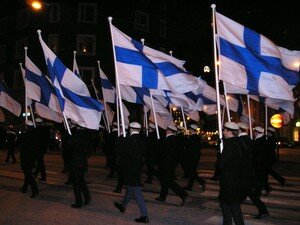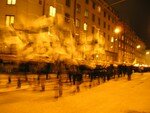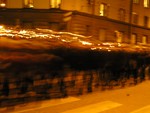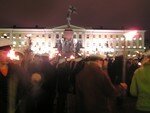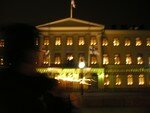 03 décembre 2006
My first exam will be on the 11th and then 4 others until the 21st ... So I'm really busy now, since I have to finish all the reports for this week and study for the exams.
On Saturday I worked and worked ... We watched a movie in the evening, Sin City. And today I continue to work. What a wonderful WE!
Hope the snow is coming soon ... it is too warm, I didn't expect that weather here in December ;)